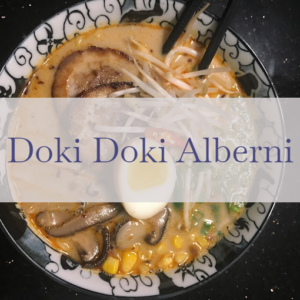 Contact
4264 10th Avenue
Port Alberni, BC
V9Y 4X3
Canada
Asian Restaurant in Port Alberni
Featuring delicious Asian cuisine. We prepare the best sushi, ramen, udon, tempura and even pho! Come in and see for yourself! You won't be disappointed!
Always Amazing 🙂
Doki Doki is always amazing! Thank you! I almost don't want the secret to get out, but supporting a delicious and affordable local business is more important. I get take-out 1-2xmonth and have never been disappointed.– Coral via Tripadvisor
Amazing food & excellent staffs. Pho, Rice with Chicken kids meal & Shrimp fries are my favourite here. During my travel to Tofino visited this place & stopped by on my way back too attracted by their delicious meal. Good quantity & pricing. 10/10 for their service. Highly recommend if you are planning to visit – Manju Shankar via Google Reviews
Hours:
Sunday & Monday: Closed
Tuesday – Saturday: 11:30a.m.–2:30p.m., 4:30–8p.m.