Port Alberni on the BC Ale Trail
Port Alberni is the home of Twin City Brewing, where deliciously inventive beers are paired with creative pizzas baked fresh on-site, and Dog Mountain Brewing, boasts a rooftop patio that might just become your favourite place to drink a beer on Vancouver Island. The newest addition, Alberni Brewing Company opened its doors in 2021. Serving fine craft beer and offering brewhouse friendly food you will surely find a way to sit back, relax and unwind in their comfortably appointed indoor and outdoor seating. Read more about Port Alberni Craft Beer on our blog.
Visit the website to learn more about BC Ale Trail's mid island stops or check out their special Port Alberni post.
Twin City Brewing is an initiative to produce fresh, locally crafted ales for the surrounding community and beyond. Named after the distinct municipalities of Alberni and Port Alberni—opened in 2017 and was winner of the "Best Brewery Experience" award in 2020 as well as "Best In Show" in 2018.
Dog Moutain Brewing  prides itself in serving great beer and tasty food on their GIANT dog friendly rooftop patio in Port Alberni BC. It offers sunset views of the Alberni Valley and the Alberni Inlet, and definitely can't be missed on your Ale Trail adventure of Vancouver Island.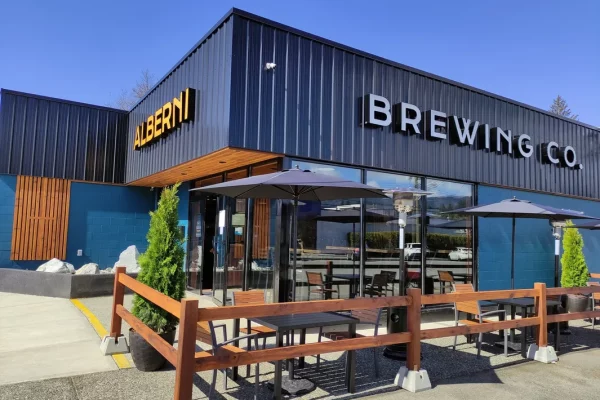 The Alberni Brewing Company is committed to producing & serving craft beer at its finest quality. Their kitchen offers a plentiful menu, priding itself on complementing the brewhouse. With a variety of seating you will be spoilt for choice, so sit back, relax and enjoy the atmosphere!