Business Category:
Accommodations
Our well-appointed one and two bedroom fully-equipt kitchen suites and standard double rooms with fridge, microwave and coffee maker are designed with your spacious comfort in mind. Family pets are also welcome for an extra charge
View Business Details
The largest full facility hotel in Port Alberni, BC offering convenience, comfort, and amenities to serve all types of travellers.  Our central location make planning your stay easy with access to many local attractions nearby. Walk and shop on the Alberni Harbour Quay, enjoy a snack or to watch the game on our big screen […]
View Business Details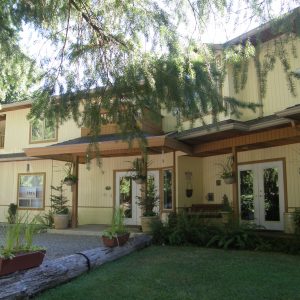 Cedar Wood Lodge Bed & Breakfast Inn offers 8 delightfully decorated guestroom suites featuring either 1 or 2 deluxe queen beds adorned in plush goose-down duvets. All of our guestrooms feature private en-suite bathrooms with Ultra-Spa jetted massage tubs and showers along with hot-air blow dryers. Each guestroom has a cozy natural gas fireplace for the […]
View Business Details
Char's Landing 19+ Public House is the heart of our community. Since 2010, Char's Landing has earned a reputation as THE Live Entertainment Venue in Port Alberni, attracting performers in every field with a wide range of talents. Here, you'll find musicians of every influence from all over Vancouver Island and British Columbia – and […]
View Business Details
Relax in one of our 250 tent or RV campsites with beautiful forested or beachfront scenery.  We have sites that offer full service hookups through to an authentic wilderness camping experience with some unserviced sites.
View Business Details
The Hospitality Inn is a full facility, air conditioned hotel with amenities including covered, outdoor, salt water, heated pool and hot tub, plus fitness facility. Visit our hotel dining room serving a full complimentary buffet breakfast including a live omelette station. The hotel also has a private liquor store onsite. We also offer complimentary coffee/tea, […]
View Business Details
A world of wonderful possibilities designed to make you feel right at home, while at the same time , exceeding your every expectation. Reserve a little piece of paradise at the Hummingbird Guesthouse in Port Alberni. Nestled happily on the old Howitt Homestead property, along the banks of the Somass River. Here you will experience […]
View Business Details
Nicely appointed 42-room hotel conveniently located off River Road (HWY 4 to Ucluelet/Tofino). Walking distance to Fisherman's Harbour, Clutesi Haven Marina. Perfect starting point for some of the best sport and commercial fishing in Canada. Creeker's Pub Restaurant Liquor, Cold Beer and Wine store Special Rates Continental breakfast Close to Hwy 4 Meetings room Non-smoking […]
View Business Details
Redford Motel is your one stop destination for all your accommodation, and RV needs. With 34 Rooms, ranging from kitchenettes to kitchen suites, single bed rooms to multiple beds per room, daily rates and large group discounts, we are sure you will find one that suites your needs.
View Business Details