Sehmi Sushi Restaurant located at the in Port Alberni We offer a diverse lunch and dinner menu daily with many favourites, including: Sushi Tempura Sashimi Teriyaki Sunomono
View Business Details
Pop by Smitty's ! We are open daily from 9am to 6pm for all your favourites all day long! Pick-up, Curbside, Delivery, Car Service, and tables outside with the nice weather!
View Business Details
Our amenities include a Beautiful outdoor patio that is a feature, plants and for those days where its better to just say indoors for a bite to eat we have a comfort air-conditioned dining inside.
View Business Details
Cottage Style Motel and Campground situated in the heartland of Vancouver Island's Pacific Rim region. The Somass Motel's mid-island location in Port Alberni makes it the perfect base for day trips throughout the Pacific Rim and Central Vancouver Island areas. We have a seasonal outdoor pool, basketball area and several garden areas where the younger set can expend some of […]
View Business Details
Seeking your dream vacation plush with natural beauty? What if you could unpack just once, stay in luxury, and experience the very best of Vancouver Island by day trips from ONE place? For these reasons and more Sproat Lake Landing Resort is the Best Location on Vancouver Island. Indulge yourself in luxury at our Hotel […]
View Business Details
The Starboard Grill is Port Alberni's only on-the-water restaurant with a patio overlooking the harbour and down the canal. Enjoy a fresh, west coast style lunch, dinner or snack with a view from every table. Located in the heart of the Harbour Quay, The Starboard Grill will be the place to relax among friends and […]
View Business Details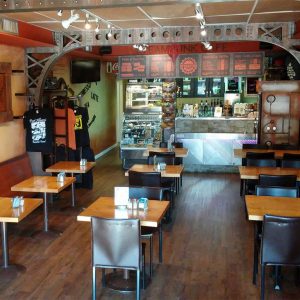 A local favourite Cafe in Port Alberni, BC. Owned and operated by a family with lots of passion! Join us and our amazing staff for great coffee, awesome food and quality service with a smile! Lots to choose from, with GF and Vegan options available!
View Business Details
Handmade chocolate and all kinds of amazing sweets! Amazing ice cream and frozen yogurts… all handmade smells are free!
View Business Details
Come sleep right on top of the water with gentle swaying, 360 degree outstanding views. Enjoy our vintage 1944 tug boat with all the modern conveniences of home. A special place to relax and enjoy nature up front and personal.
View Business Details