Eat, Shop, and Stay in the Alberni Valley
The Alberni Valley is home to a rich and diverse community working together to bring you incredible flavours, great value, artistic masterpieces, and comfortable and friendly accommodations. Discover the beauty of a community connected to nature.
Pacific Rim Shopping Centre
City shopping with small-town service. Pacific Rim Shopping Center, in Port Alberni, is where you can find your favourite national brands and big-box stores. Hardware, sporting goods, vehicle repairs, groceries, clothing, banking, pet supplies, restaurant and coffee shops. Easy to access and plenty of free parking. Get directions to Pacific Rim Shopping Centre
NorthPort Plaza
The last spot to shop before heading to the West Coast, NorthPort offers all your last-minute items. Groceries, books, souvenirs, liquor, sporting goods, hardware, vehicle repair, and several dining and fast food restaurant options. Keep right at the Visitor Information Centre junction. Get directions to North Port Plaza
Uptown
The original city centre is being revitalized with boutique shops and various art galleries that are worth making the time to explore. Home to the Rotary Arts District with art displayed on the street in sculptures, banners, murals and even doors. Turn left at the Visitor Information Centre junction and follow the signs for City Centre.
Harbour Quay
A fantastic waterfront location with a delicious and delightful Farmers Market on Saturdays. Choose from various dining options from coffee and doughnuts to chocolates, all-day breakfast, lunch, or fine dining. Galleries and small boutiques offer an intimate shopping experience. Turn left at the Visitor Information Centre junction and follow the signs for Harbour Quay.
Central (10th and Redford)
Park and shop at this convenient collection of stores, with plenty of parking and all the basics: grocery stores, drugstore, liquor store, bank, and restaurants.
Farm Markets and Shops
Harbour Quay Farmers Market
This Farmers Market is held every Saturday from 9 am to 12 noon, in Spirit Square at the picturesque Harbour Quay, year-round. You will find locally grown beef, chicken, pork, lamb and emu products. Enjoy fresh, local seasonal vegetables, and fruits, with local artisans and crafters offering a wide array of locally crafted items. Learn more on the Spirit Square Farmers Market Facebook page.
Cherry Creek Farmers Market
If you can make it, bake it, or grow it, you'll find it at the Cherry Creek Farmers Market. This market runs year-round, every Saturday from 9 am to 1 pm. Located at the First Baptist Church, 6211 Cherry Creek Road. Booths are located under shelter and indoors. Assorted meats, early greens, fresh eggs, honey, home baking, handcrafted soap, woodwork, knitting and more. Learn more on the Port Alberni Farmers Market Facebook page.
Naesgaard's Farm Market
A family-run market for over 40 years, with an eclectic selection of wares. Fresh fruits and vegetables, home and garden decor, women's fashion and unique gifts, as well as fresh-cut Christmas trees, ornaments and all things Christmas during the holiday season. Known for the largest selection of clay pots on Vancouver Island and for their famous pot sale, Naesgaard's is one of those places you can't find anywhere but in the Alberni Valley. See Naesgaard's Facebook page for current specials and events.
Our well-appointed one and two bedroom fully-equipt kitchen suites and standard double rooms with fridge, microwave and coffee maker are designed with your spacious comfort in mind. Family pets are also welcome for an extra charge
View Business Details
The largest full facility hotel in Port Alberni, BC offering convenience, comfort, and amenities to serve all types of travellers.  Our central location make planning your stay easy with access to many local attractions nearby. Walk and shop on the Alberni Harbour Quay, enjoy a snack or to watch the game on our big screen […]
View Business Details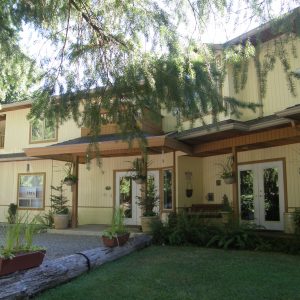 Cedar Wood Lodge Bed & Breakfast Inn offers 8 delightfully decorated guestroom suites featuring either 1 or 2 deluxe queen beds adorned in plush goose-down duvets. All of our guestrooms feature private en-suite bathrooms with Ultra-Spa jetted massage tubs and showers along with hot-air blow dryers. Each guestroom has a cozy natural gas fireplace for the […]
View Business Details
Char's Landing 19+ Public House is the heart of our community. Since 2010, Char's Landing has earned a reputation as THE Live Entertainment Venue in Port Alberni, attracting performers in every field with a wide range of talents. Here, you'll find musicians of every influence from all over Vancouver Island and British Columbia – and […]
View Business Details
Relax in one of our 250 tent or RV campsites with beautiful forested or beachfront scenery.  We have sites that offer full service hookups through to an authentic wilderness camping experience with some unserviced sites.
View Business Details
The Hospitality Inn is a full facility, air conditioned hotel with amenities including covered, outdoor, salt water, heated pool and hot tub, plus fitness facility. Visit our hotel dining room serving a full complimentary buffet breakfast including a live omelette station. The hotel also has a private liquor store onsite. We also offer complimentary coffee/tea, […]
View Business Details
A world of wonderful possibilities designed to make you feel right at home, while at the same time , exceeding your every expectation. Reserve a little piece of paradise at the Hummingbird Guesthouse in Port Alberni. Nestled happily on the old Howitt Homestead property, along the banks of the Somass River. Here you will experience […]
View Business Details
Nicely appointed 42-room hotel conveniently located off River Road (HWY 4 to Ucluelet/Tofino). Walking distance to Fisherman's Harbour, Clutesi Haven Marina. Perfect starting point for some of the best sport and commercial fishing in Canada. Creeker's Pub Restaurant Liquor, Cold Beer and Wine store Special Rates Continental breakfast Close to Hwy 4 Meetings room Non-smoking […]
View Business Details
Redford Motel is your one stop destination for all your accommodation, and RV needs. With 34 Rooms, ranging from kitchenettes to kitchen suites, single bed rooms to multiple beds per room, daily rates and large group discounts, we are sure you will find one that suites your needs.
View Business Details
FAMILY OWNED AND OPERATED MOTEL -We have Rooms with 1 queen bed and kitchenettes, as well as rooms with separate bedrooms and full kitchens, private patio etc 
View Business Details
Cottage Style Motel and Campground situated in the heartland of Vancouver Island's Pacific Rim region. The Somass Motel's mid-island location in Port Alberni makes it the perfect base for day trips throughout the Pacific Rim and Central Vancouver Island areas. We have a seasonal outdoor pool, basketball area and several garden areas where the younger set can expend some of […]
View Business Details
Seeking your dream vacation plush with natural beauty? What if you could unpack just once, stay in luxury, and experience the very best of Vancouver Island by day trips from ONE place? For these reasons and more Sproat Lake Landing Resort is the Best Location on Vancouver Island. Indulge yourself in luxury at our Hotel […]
View Business Details
Come sleep right on top of the water with gentle swaying, 360 degree outstanding views. Enjoy our vintage 1944 tug boat with all the modern conveniences of home. A special place to relax and enjoy nature up front and personal.
View Business Details
Rooms feature a seating area where you can relax. You will find a coffee machine in the room. Some rooms features a kitchenette, based on availability.
View Business Details
Central Location, Easy Access to Pacific Rim Highway Wireless Internet Access Cable TV Mountain Views Some Pets Welcomed Full Kitchen Units Available Outdoor Pool Suites Accommodate up to Six
View Business Details
Bare Bones Fish & Chips offers Cod, Halibut, Salmon & Prawns to be done in your choice of either Traditional English Style Batter, Crispy Panko Breadcrumbs, or Open Fire Grilled. You also get to choose the sides for your meal Chips, Slaw or Ceasar Salad. Then we have 5 amazing sauces to choose from: Traditional Tartar […]
View Business Details