Eat, Shop, and Stay in the Alberni Valley
The Alberni Valley is home to a rich and diverse community working together to bring you incredible flavours, great value, artistic masterpieces, and comfortable and friendly accommodations. Discover the beauty of a community connected to nature.
Pacific Rim Shopping Centre
City shopping with small-town service. Pacific Rim Shopping Center, in Port Alberni, is where you can find your favourite national brands and big-box stores. Hardware, sporting goods, vehicle repairs, groceries, clothing, banking, pet supplies, restaurant and coffee shops. Easy to access and plenty of free parking. Get directions to Pacific Rim Shopping Centre
NorthPort Plaza
The last spot to shop before heading to the West Coast, NorthPort offers all your last-minute items. Groceries, books, souvenirs, liquor, sporting goods, hardware, vehicle repair, and several dining and fast food restaurant options. Keep right at the Visitor Information Centre junction. Get directions to North Port Plaza
Uptown
The original city centre is being revitalized with boutique shops and various art galleries that are worth making the time to explore. Home to the Rotary Arts District with art displayed on the street in sculptures, banners, murals and even doors. Turn left at the Visitor Information Centre junction and follow the signs for City Centre.
Harbour Quay
A fantastic waterfront location with a delicious and delightful Farmers Market on Saturdays. Choose from various dining options from coffee and doughnuts to chocolates, all-day breakfast, lunch, or fine dining. Galleries and small boutiques offer an intimate shopping experience. Turn left at the Visitor Information Centre junction and follow the signs for Harbour Quay.
Central (10th and Redford)
Park and shop at this convenient collection of stores, with plenty of parking and all the basics: grocery stores, drugstore, liquor store, bank, and restaurants.
Farm Markets and Shops
Harbour Quay Farmers Market
This Farmers Market is held every Saturday from 9 am to 12 noon, in Spirit Square at the picturesque Harbour Quay, year-round. You will find locally grown beef, chicken, pork, lamb and emu products. Enjoy fresh, local seasonal vegetables, and fruits, with local artisans and crafters offering a wide array of locally crafted items. Learn more on the Spirit Square Farmers Market Facebook page.
Cherry Creek Farmers Market
If you can make it, bake it, or grow it, you'll find it at the Cherry Creek Farmers Market. This market runs year-round, every Saturday from 9 am to 1 pm. Located at the First Baptist Church, 6211 Cherry Creek Road. Booths are located under shelter and indoors. Assorted meats, early greens, fresh eggs, honey, home baking, handcrafted soap, woodwork, knitting and more. Learn more on the Port Alberni Farmers Market Facebook page.
Naesgaard's Farm Market
A family-run market for over 40 years, with an eclectic selection of wares. Fresh fruits and vegetables, home and garden decor, women's fashion and unique gifts, as well as fresh-cut Christmas trees, ornaments and all things Christmas during the holiday season. Known for the largest selection of clay pots on Vancouver Island and for their famous pot sale, Naesgaard's is one of those places you can't find anywhere but in the Alberni Valley. See Naesgaard's Facebook page for current specials and events.
Port Alberni Motel. Our well-appointed one and two bedroom fully-equipped kitchen suites and standard double rooms with fridge, microwave and coffee maker are designed with your spacious comfort in mind. Family pets are also welcome for an extra charge. A microwave and fridge are featured in each suite at this Port Alberni inn. Free Wi-Fi […]
View Business Details
Located in the heart of the Alberni Valley, Alberni Brewing Company is committed to  producing & serving craft beer at its finest quality.  Our kitchen offers a plentiful menu, priding itself on complementing the brewhouse. With a variety of seating you will be spoilt for choice, so sit back, relax and enjoy the atmosphere! Port […]
View Business Details
Port Alberni's Freshest Sushi Now licensed! We provide high-quality sushi rolls, sashimi, and a diverse selection of Japanese cuisine at affordable prices. Take a moment to explore our complete menu, and don't hesitate to reach out if you have any inquiries or unique preferences. TAKE OUT or DELIVERY
View Business Details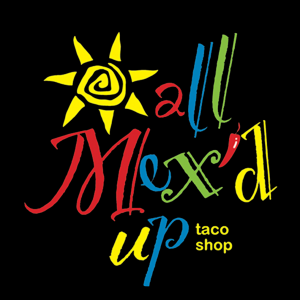 Mexican inspired menu made in house from real food served by the sea at Harbour Quay. Vegetarian, vegan and gluten free options!
View Business Details
The search for life's Antidote has led you here… We are a craft distillery, who brings you artisanal spirits from the heart of Vancouver Island . We ferment and distill the 'Spirit of Alberni' with locally sourced grains and fruit, while crafting our products with the 'wild-at-heart' in mind. By sourcing recycled bottles and by […]
View Business Details
Fine, Tasty, Fresh & Cooked to Order! Thai & Chinese Food. "Delicious food! Spotless restaurant and great service. What a great treat!" – JenJess, Facebook "Wonderful food in a lovely atmosphere. Always greeted with a warm hug. Food is delicious, fresh and eye appealing. Wonderful people run this restaurant and always serve a lovely dinner." […]
View Business Details
Bare Bones Fish & Chips offers Cod, Halibut, Salmon & Prawns to be done in your choice of either Traditional English Style Batter, Crispy Panko Breadcrumbs, or Open Fire Grilled. You also get to choose the sides for your meal Chips, Slaw or Ceasar Salad. Then we have 5 amazing sauces to choose from: Traditional Tartar […]
View Business Details
"We'll Keep You Coming Back" Boomerangs is a locally owned, family run restaurant. They offer a little taste of Australia, along with some of your old favorites. "Second time here at Boomerangs, always amazing. Love the atmosphere, service each time was very efficient and they make sure your looked after! Basic breakfast but pretty damn […]
View Business Details
A Restaurant and Sports Bar, Boston Pizza is two great concepts under one roof! We've got Meal Deals for everyone.  Available for take-out and delivery or stay in and enjoy one of our many  dining sections "family, pub or patio" Canada's favourite place where food and life get shared. Proudly Canadian since 1964.
View Business Details
An intimate bistro serving flavourful and unique dishes. Featuring local ingredients and products where ever possible. We carry a wide variety of wines and a full list of Vancouver Island Spirits, craft beer, and more. Tuesday – Thursday: 4:00 PM – 8:30 PM Friday: 4:00 PM – 10:00 PM Saturday: 4:00 PM – 9:30 PM […]
View Business Details
Great Food and Great Service At Bucksnort's, we believe in freshness, quality and the importance of supporting local business. We do our best to supply as many of our ingredients from here in the Alberni Valley and Vancouver Island. Drawing inspiration from this beautiful Valley and the great Farms and Fields of Vancouver Island, we've […]
View Business Details
THE Live Entertainment Venue in Port Alberni An affordable accommodation option in Port Alberni. Char's Landing (19+) Public House is the heart of our community. Since 2010, Char's Landing has earned a reputation as THE Live Entertainment Venue in Port Alberni, attracting performers in every field with a wide range of talents. Here, you'll find […]
View Business Details
Welcome to The Clam Bucket Clam Bucket is a world famous seafood restaurant located at the heart of beautiful Port Alberni. The staff of the Bucket prides themselves on delivering the tastiest meals on the West Coast as well as providing the utmost in customer service. Don't forget to make us a part of your […]
View Business Details
Globally Inspired Menu Located in the Rimrock Casino, the Cypress Restaurant & Lounge is open Tuesday to Thursday from 11:30 AM to 9 PM, Friday & Saturday from 11:30 AM to 10 PM. Reservations are recommended, call 250-724-7629. Our menu is globally inspired with a combination of regional and fresh ingredients. We strive to bring […]
View Business Details
PROUDLY BREWED IN PORT ALBERNI Serving great beer and food on our GIANT dog friendly rooftop patio and home of the West Coast Donair. Always changing beers, and menu items.  Brewery/lounge with delicious food and an epic rooftop patio. Visit us in Port Alberni or find our unique take on traditional and creative beer styles […]
View Business Details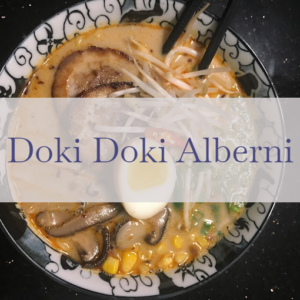 Asian Restaurant in Port Alberni Featuring delicious Asian cuisine. We prepare the best sushi, ramen, udon, tempura and even pho! Come in and see for yourself! You won't be disappointed! Always Amazing 🙂 Doki Doki is always amazing! Thank you! I almost don't want the secret to get out, but supporting a delicious and affordable […]
View Business Details
The BEST Donuts on Vancouver Island Fresh IN STORE made donuts in a variety of 24 flavours including Maple Walnut, Lemon Coconut and our newest flavour – Chocolate Peanut Butter Cup. Fresh coffee and selection of teas and cold beverages as well, or come by for a hot or cold sandwich, or an ice cream […]
View Business Details
Vancouver Island's most spectacular lakeside casual dining experience Drinkwaters Lounge is the perfect place to share time, drinks and plates with your family and friends. This is an amazing community and we are happy to welcome everyone to share in this beautiful place. Whether you have a seat on our patio, or stay indoors, we […]
View Business Details
Indulge Your Taste Buds In Every Region of China Located on the corner of Johnstone & Margaret in beautiful Porn Alberni, we combine authentic Chinese cuisine with contemporary delicacy. Offering quality Asian food that is aromatic, flavourful, colourful, and reasonably priced. From a wide selection of northern Szechuan to southern Cantonese and traditional style BBQ […]
View Business Details
Fresh Food & Drinks Welcome to Grassroots, your go-to destination for delicious and wholesome food in the heart of Port Alberni! Nestled on the picturesque waterfront at Harbour Quay, Grassroots is all about serving up fresh and locally grown delights to satisfy your taste buds. From specialty coffees and espresso-based beverages to a menu filled […]
View Business Details
Port Alberni's Most Historic Restaurant An icon that truly can't be missed! Burgers, Snacks, Seafood and Shakes, plus the best onion rings on Vancouver Island! Roll up in your car, flash your lights, place your order and, in a short time, out comes a tray to rest on your open window. If you've of a […]
View Business Details
Little Bavaria is restaurant with great history that offers Canadian hospitality and the best German and European foods and drinks. Most people in the Alberni valley are very familiar with the wonderful service from the staff and many of whom have been with The Little Bavaria for many years and of course the cuisine is […]
View Business Details
Opening Soon – Port Alberni's newest craft distillery and cocktail lounge! Opening 2021  – Join their email list to get the latest updates and exclusive offers https://forms.gle/8ynVvpboaGtLAraS7
View Business Details
Come grab a drink and watch all your favourite games on our large screen.   Serving  lunch, and dinner. We will tempt your pallet with exceptional West Coast dishes and daily features. 19+   Featuring a terrific outdoor patio with large screen TV Located in the Best Western Plus Barclay Hotel.
View Business Details
At Pescadores, we aim to keep you coming back for more. From our award-winning breakfasts to our famous fish tacos, we have the recipe for a fun and enjoyable dining experience. Our unique menus boasts a wide range of dishes sure to satisfy the most simplistic or adventurous pallet. We do our best to utilize […]
View Business Details
Order Online! The Port Alberni Pizza Factory is a localy owned and operated pizza shop. We use the freshest ingredients available. Our main suppliers are local business's who employ members of our community. Our goal is to create and prepare the very best pizza possible. Our sauce is hand made inhouse, placed on top of […]
View Business Details
Nowadays tacos are everywhere, but a great taco can be hard to find. At PortoTaco you can bet taco connoisseurs' will leave thirsting for more! We offer a community setting for people to gather over tasty Mexican food with fresh salsas and homemade hot sauces. Not to mention, our intimate patio is the perfect place […]
View Business Details
At the RimRock Casino we like to believe we can showcase the beauty and magic of the west coast rainforest to our guests in an unexpected indoor environment. From the towering 1500-year-old cedar trees to the massive Douglas firs, we have incorporated every species of wood found in the coastal rainforest in our indoor decor. […]
View Business Details
EAT IN, TAKE OUT & DELIVERY Open till 4 AM Thursday, Friday & Saturday. Proudly serving the biggest portions in town! Delivery Hours: Sunday To Wednesday: 11:00 am to 2:00 am Thursday to Saturday: 11:00 am to 4:00 am Restaurant Open Hours: Sunday To Wednesday: 11:00 am to 02:00 am Thursday to Saturday: 11:00 am […]
View Business Details
Sehmi Sushi Restaurant located at the in Port Alberni We offer a diverse lunch and dinner menu daily with many favourites, including: Sushi Tempura Sashimi Teriyaki Sunomono
View Business Details
Pop by Smitty's ! We are open daily from 9am to 6pm for all your favourites all day long! Pick-up, Curbside, Delivery, Car Service, and tables outside with the nice weather!
View Business Details
Our amenities include a Beautiful outdoor patio that is a feature, plants and for those days where its better to just say indoors for a bite to eat we have a comfort air-conditioned dining inside.
View Business Details
Discover the Finest Indian Cuisine at Spice Hut! Experience the intricate and delightful flavors of East India today, whether you're well-acquainted with Indian cuisine or a newcomer to its culinary wonders. At Spice Hut, a collection of six family-owned locations, we promise an unforgettable dining journey. Our diverse menu is a tribute to authentic East […]
View Business Details
Authentic Indian Food At Spice 7, we are proudly known as the only authentic Indian restaurant in the Port Alberni, serving the highest-quality food with even better customer service. Our skilled chefs know everything there is to know about Indian tradition and cooking techniques, making our food delectable as well as authentic. OPENING HOURS Mon, […]
View Business Details
The Starboard Grill is Port Alberni's only on-the-water restaurant with a patio overlooking the harbour and down the canal. Enjoy a fresh, west coast style lunch, dinner or snack with a view from every table. Located in the heart of the Harbour Quay, The Starboard Grill will be the place to relax among friends and […]
View Business Details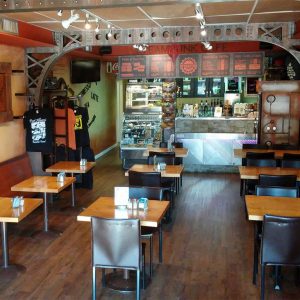 A local favourite Cafe in Port Alberni, BC. Owned and operated by a family with lots of passion! Join us and our amazing staff for great coffee, awesome food and quality service with a smile! Lots to choose from, with GF and Vegan options available!
View Business Details
Locally and globally inspired eats for everyone! The Broken Bow is located down at the Harbour Quay. Our menu is 100% Gluten free, we make almost everything from scratch including our sauces, hash browns, waffle batter, and fried chicken batter. We use some really amazing local suppliers including Hertels Meats, Petes Mountain Meats, Fluer Smokery, […]
View Business Details
Twin City Brewing is an initiative to produce fresh, locally crafted ales for the surrounding community and beyond. Open daily, serving hand stretched pizza, smoked meat sandwiches and some lighter fare.
View Business Details